Wouldn't it be great if the next time you took the family out to dinner, you could be earning points towards your next service appointment? Well, now you can.

Visalia Toyota Scion wants you to be the first to learn of the New Toyota Rewards Visa. Designed with Toyota Owners in mind, the Toyota Rewards Visa allows you to shop at the stores you love, while earning points that can be used at Visalia Toyota Scion to service your Toyota.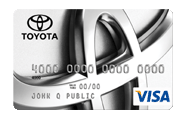 With the Toyota Rewards Visa, you'll get:3.99% Intro Apr on all Purchases for the first six months.*
5 Points for every $1 spent at participating Toyota dealerships.**
1 Point for every $1 spent everywhere else that Visa is accepted.**

For more information on the Toyota Rewards Program,
click here
.
Sincerely,
Nathan Madsen
Service Manager
Visalia Toyota-Scion
*The 3.99% introductory rate does not apply to Balance Transfers, Cash Advances, or other Advances as defined in the Cardmember Agreement, and is valid for the first 6 billing cycles. The introductory APR will end early and increase to the APR for purchases if your Account is over the limit or closed, or to a Delinquency Rate APR if your Account is delinquent as further described above and in the Cardmember Agreement. We apply payments to balances with lower APRs first. Terms and restrictions apply and are fully described in the Toyota Rewards Visa Cardmember Agreement and the Toyota Rewards Program Terms and Conditions.